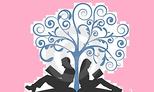 Everything about this book just screamed my name. First of all, the cover is adorable, then there's the synopsis that hints at all of the potential banter and angst that I adore, and finally, it's written by Samantha Young! I'm just going to get right down to it and say that I LOVED this book! I thoroughly enjoyed every second that I spent within these pages. Fight or Flight ended up surpassing my already high expectations. Don't let that cute, whimsical cover fool you, this book packs a punch that you will feel in the pit of your stomach and right down to your toes.

I am always drawn to the antagonistic nature of an enemies-to-lovers romance. There is just something tantalizing about them, and this one is done to perfection. I'm not sure I've ever encountered a fictional character quite as rude, boorish, or brooding as Caleb Scott. Every word that he said sent my emotions into a tailspin. My blood boiled and my heart rate spiked. He infuriated me to the point that I could feel the color rise into my cheeks. But with that being said, I still couldn't help but be intrigued and, yes, smitten with him. His accent didn't hurt, either.

Ava Breevort was a fantastic character. She was spunky, spirited, and didn't back away from Caleb's biting words and actions. She was a spitfire who could get under his skin just as easily as he had embedded himself under hers. She didn't understand how he could have such an adversarial reaction to a complete stranger, but for some unknown reason, she just aggravated him. To make matters worse, she couldn't seem to escape his wrath, as they just kept bumping into one another. With every glimpse and interaction, their attraction grew stronger, but there is so much more to both of them than meets the eye.

It was so easy to just let myself get swept up in this story. The story is told completely from Ava's perspective. Since I was only witnessing the events from her point of view, I didn't know what was going on in Caleb's head, and it made the butterflies in my stomach flutter all the more. Ava's worries were my worries, her concerns were mine, and her feelings became my own. I felt as though I was right there with her, experiencing everything right alongside of her. This only helped to build my anticipation.

Fight or Flight had all of the tension, intensity, angst, heartache, humor, and romantic chemistry that I crave. The push and pull between the characters was some of the best that I've ever read. I wanted to lose myself in this story and not resurface until I reached the final page, but I also didn't want to see it come to an end. I could have easily spent another few hundred pages with them. This book is definitely one that I will be wanting to re-read at a later date when I am searching for that all-consuming reading experience. Reading Fight or Flight has been a highlight of my reading year. It will certainly be on my list of favorites for 2018!





*5 Stars