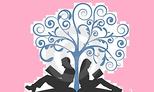 ​What began as a summer romance, quickly blossomed into a deeper love that held the promise of forever.

Blythe and Nate were young, with plans to attend different universities in the fall, but even though they hadn't been together for long, their connection just felt so right. They truly believed that their love could withstand a long distance relationship, and they were making plans for the future. But almost as quickly as their relationship began, it came to an end, leaving them both heartbroken.

Told from the past and present day, the reader gets to witness Blythe and Nate fall in love, fall apart, and watch them navigate through their lives six years later. A lot can happen and change in six years, but their love has remained constant.

Six years later, and much to Blythe's chagrin, she is back in Lafayette and living at her parents' house. She's lost her job, she doesn't own a car, she's lonely, and like I said, she's living at home with her parents and brothers. Life seems bleak for Blythe. But Blythe isn't the same girl that she was six years ago. She is a hardened version of the sweet girl she once was. Laced with regret, sadness, and guilt, Blythe just wants to find some kind of solace from all of her pain.

Nate is still living in Lafayette and running the family business. Life may not have turned out the way he had hoped, but he's making the best of it, doing what he believes is right. When he finds out that Blythe is back home, he's more than a little interested in reconnecting with the girl who still owns his heart.

Despite the love that they both still feel, their journey back to each other is certainly not an easy one. Decisions that were made in the past are still haunting them. Guilt and regret overshadows their second chance at happiness. And when a secret finally gets revealed, everything that they've wanted is threatened by the heartbreaking truth.


Butterfly Ginger is so much more than just a second chance love story. It's a story about family, loyalty, trust and forgiveness. It also deals with some topical issues. Stephanie Fournet has created characters that are well developed and so easy to become invested in. I felt for them, I hurt with them, I wanted the best for them. Whenever an author can pull you into a story and make you live it right along with the characters, that's the sign of a gifted storyteller.

Butterfly Ginger is a gripping love story that is filled with emotion, heartache…and hope.





*5 Stars *