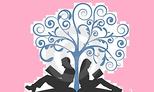 Megan is in her senior year of her undergraduate degree in mathematics. She is an intelligent young woman who has her sights set on obtaining her master's degree upon graduation. With her studies and her waitressing job, Megan's life is kept busy. Her days of partying, drinking, and hooking up are getting fewer and far between. In the past, Megan has been content to just have casual relationships with men. No expectations, no feelings involved, no commitments. But when she meets her cryptography professor for the first time, she is instantly attracted to him, and begins to think that maybe she's ready for something more meaningful.

Megan isn't the only one who is smitten. Dr. Muramoto is equally attracted to her. Their relationship moves along relatively quickly. As with any forbidden love story, it's the fear of being found out that brings out the most drama. Between the non-fraternization policy of the university and her parents working on campus, Megan and Nick's relationship was in jeopardy of being exposed.

There were many aspects of this book that I enjoyed. I appreciated that the love story was between an interracial couple and how that was never a factor in them being together. I thought that overall they had great chemistry and that it was written in a believable manner. I also liked the fact that there was more going on in the story than just the relationship between Megan and Nick. The issues with Megan's mother created a whole other level to the story.

The one thing that I found lacking was the level of angst. Don't get me wrong, it did have angst, heartbreak, painful moments, but I wanted more. Maybe it's just me, but I wanted to see their turmoil drawn out. The appeal of a forbidden love story is always in the risk and potential of the couple getting caught, the repercussions, and how or if the relationship will be able to move forward. I just wanted to read and feel more of those elements in this story.

Break Your Heart was an enjoyable read, with interesting characters that I found myself wishing I knew more about.



*3.5 Stars*