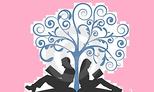 This book was pure fun from start to finish. Lauren Layne's dialogue and witty banter stole the show in this friends-to-lovers romance. I was smiling, laughing out loud, and reading passages to my husband throughout the book's entirety. I read as a source of entertainment and enjoyment, and Blurred Lines certainly entertained.

The book is told in alternating chapters from Parker and Ben's perspectives. I loved getting inside of their heads to see exactly what the heck they were thinking. They weren't merely friends, they were best friends and roommates. They knew each other at their best and worst. They understood each other, supported each other, and needed each other. I adored their relationship. They had such an easy camaraderie, but would that all change if they became friends-with-benefits?

Being best friends, you would automatically assume that Parker and Ben would also be a great couple. Parker had just been dumped by her long-time boyfriend, and Ben was not interested in having a girlfriend, he preferred to play the field. Making that big leap from the friend zone into the bedroom is often a very slippery, dangerous slope. It doesn't really matter how many times you tell yourself that you'll be fine with whatever transpires between you, or that your friendship will survive, or better yet, that you won't let feelings get in the way. Feelings will always get in the way. Parker and Ben never thought that they would be in the position to take their relationship to…well, other positions, but when they decided to take the leap, scratch that itch, they quickly found out that they were compatible in that regard too.

Blurred Lines was a fun, lighthearted read, but it wasn't without its share of tension. What fun would it have been if everything had just worked out perfectly? Ben and Parker already loved each other as friends, and once they became more intimate, their feelings deepened. While they were both enjoying their new time together, they were also telling themselves that they could keep their friendship intact, that they wouldn't allow themselves to fall. Ah, easier said than done.

Lauren Layne has written an irresistible romance between two characters that were absolutely charming. Filled with humor, friendship, and plenty of romance, Blurred Lines was a delight to read.





*4.5 Stars