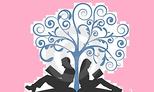 ​​Leave a Mark is just another example of why I love this author's writing. She doesn't simply tell a story, she writes it so that you feel the emotions and live through the story right alongside the characters. As an avid reader of all things romance, I was immediately drawn to the love story between the characters, but Leave a Mark turned out to be so much more than just a love story.

Wren is a talented tattoo artist who wears her own skin as a canvas of intricate tattoos, they not only tell her story, but also cover her as a security blanket. Her dyed hair, piercings, and sharp tongue also act as a protective barrier to safeguard her and give her a somewhat unapproachable, untouchable persona.

Dr. Lee Hawthorne is in the final year of his medical residency. His life is on track. Everything seems perfect, from his career, his home, and his beautiful girlfriend, Dr. Hawthorne's life is heading in the right direction. But he just feels as though he's going through the motions of life instead of truly living it.

When Wren ends up as a patient in the hospital where he works, he is immediately intrigued and attracted to her. She has sparked something in him that he's never felt before…and much to Wren's chagrin, the feelings are mutual.

While I won't get into all of the details of the story, I will say that there is a great deal of tension and push and pull between the characters. They may have been instantly attracted to one another, but their relationship was anything but smooth and easy. For every step forward that the good doctor made, Wren pushed him back two. I always appreciate it when an author doesn't take the easy road. While most readers covet the happily ever after, I want the characters and the story to be authentic and realistic – and that's exactly what I got.

Leave a Mark is a story about letting go, acceptance, forgiveness, and finding love where you least expect it. It's about believing in your own worth and believing that you deserve to be loved. It will make you laugh, shed a tear, and fall in love with the characters and the setting of the story. As always, I'm looking forward to reading the next book by Stephanie Fournet.





*4.5 Stars